The Winery wins Silver and Two Bronze in 2012 Wisconsin State Fair Professional Wine Competition, Silver for our Lemon Wine and Bronze each for Black Currant and Cranberry.
See Press Release
Our Wines
Premium Red Wines

River Road Red
Cabernet/Merlot, lightly oaked, great paired with a roast or barbequed steak..


---

Red Fox
Zinfandel/Shiraz blend. This red wine which finishes with a peppery spice. Try this with your favorite spicy food.




---

Big Bear Red
Our boldest Red Wine-large and full bodied-heavily oaked. Bring on the rich red meats, blackened fish or aged cheese.

---

Lone Buck Red
A fruit wine composed of American red grape juice in combination with apple juice fermented together. The resulting off dry wine pairs well with Prime Rib and should be served chilled to 60 degrees.



---

Mequanego
Wisconsin cherries and cranberries flavor this wine which has been made in the "Port Style" meaning this wine is richer, sweeter, heavier, and
possesses higher alcohol content than our other wines. Paired with cheese and fruit it makes an excellent dessert.



---
Premium White Wines

Celebration White
Sparkling white grape wine made in an old world artisanal fashion. Perfect for celebrating that special occasion.

---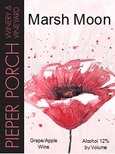 Marsh Moon
Clean, Cool and Crisp this Riesling is delightful.
---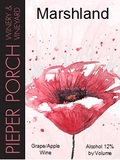 Marshland
Pieper Porch Moscato. Sweet Dessert Wine


---

Willow Run
The juice of the Pinot Gris grape creates this dry white wine. Great with a light dinner or pasta.


---

Winding Road White
Sauvignon Blanc grape juice makes this a medium bodied crisp refreshing wine. Excellent served with seafood.
---

Three Doe
Chardonnay grape juice and apple juice combine to create this slightly buttery, lightly oaked white wine. Pairs well with most foods especially
cream based pasta, chicken and fish.


---

Phantom Pricess
American white grape juice and apple juice combine to produce our boldest White Wine-off dry and heavily oaked. Serve chilled and enjoy with your favorite seafood, pork or chicken recipe.


---

Wildflower White
A wine composed of the Gewurztraminer (spicy) grape juice and apple juice fermented together. This off dry aromatic wine pairs well with strong cheeses (Gorganzola, Blue Cheese), fruits and your favorite
---
Porch Wines™

Apple Wine
An all American wine. Our winemaker's own recipe! Save some room in your picnic basket for this wine.
---

Black Currant
Black currents brought in from the Pacific Northwest make this a bold, rich wine. Pair with dark chocolate and almonds for the ultimate dessert.

2012 Wisconsin State Fair Bronze Metal Winner


---

Black Raspberry
Treat yourself to this easy drinking wine. You will note the aroma and flavor of freshly picked black raspberries.


---

Blueberry
All American Blueberry in combination with apple juice and Pinot Noir bring a sweet and intense fruit flavor to your palate.


---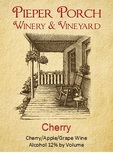 Cherry
Cherries from Door County in combination with Pinot Noir juice. This is a semi sweet wine with a smooth finish. Pairs nicely with ham.


---

Cranberry
Ruby colored wine bursting with the tart flavor of fresh cranberries from Warren Wisconsin in combination with the soft sweet taste of apple produces a sweet-tart finish that compliments turkey, pork and grilled foods.

2012 Wisconsin State Fair Bronze Metal Winner
---

Lemon
A rare refreshing Lemon wine that should be served chilled. It's like a Summer Day in a wine glass.

2012 Wisconsin State Fair Silver Metal Winner


---

Lime
A unique refreshing Lime wine that should be served very chilled and enjoyed with friends.


---
Strawberry
This wine bursts with strawberry flavor and aroma. It offers a Tangy acidity and a crisp finish.

---

Vernon Sunset
A sweet easy drinking Sangria perfect for enjoying year round. You will notice notes of orange, lemon and lime in combination with cherry. Best served chilled.

---

White Cranberry
Early harvest of cranberries makes this wine less tart than a traditional cranberry wine. Lighter in color and bursting with flavor this wine pairs well with barbequed foods.


---

Pineapple Peach Mango
This Best in Show award winning wine is sweet, flavorful and aromatic. It is meant to be enjoyed as a refreshing drink, especially when chilled and shared with friends.

2011 WVA Best of Show

---

Pomegranate Cranberry
Pomegranate and cranberry juices fermented together create this semi sweet wine. Serve chilled.



---

Winter Apple
Apples and spice define this wine. Great for mulling then served warm on a cold Winter night. This is a seasonal wine brought out in fall.

---
Award Winning Wines